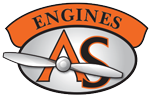 Scale Marine Engines
Disclosure: These engines are for radio control toy applications only. Not for use when human life depends on these engines.


Methanol
Manufactured and assembled by Ted Maciag in the U.S.A.
Fully working engines
Spare parts available.
Available to order - please call or email.


Scale Outboard Marine Engines
Model: Indian Silver Head
Engine Configuration: Outboard (includes engine stand)
Ignition: Glow (glow plug size: 10-40" sold seperately)
Height: 267 mm (10.5")
Propeller: 2-blade
Engine Photos


Gasoline 4-Stroke
EFI (Electronic Fuel Injection) system: "QuickFire EFI - Fuel, Fire & Fly." No more messing with pesky carburetors.
Water-cooled by radiator (requires extra electrical high speed cooling fan)
Straight shafts.
Assembled in the U.S.A.
Planned for future development.



V-12 Scale Vehicle Engine

Model: AS-V12-M300
Engine configuration: "V"
Cylinders: 12
Displacement: 300 cc (18.4 cu in)
Water-cooled by radiator
Planned for future development

---


V-8 Scale Vehicle Engine

Model: AS-V8-M200
Engine configuration: "V"
Cylinders: 8
Displacement: 200 cc (12.2 cu in)
Water-cooled by radiator
Planned for future development

---
IL-6 Scale Vehicle Engine

Model: AS-IL6-M150
Engine configuration: INLINE
Cylinders: 6
Displacement: 150 cc (9.2 cu in)
Water-cooled by radiator
Planned for future development
---