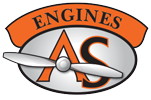 Scale Radial Engines
Note: When the photo above was taken, the engine was not completely assembled with all its external features, magnet, distributors, oil pump.
The engine shown has P&W type "B" cylinder heads (round fins). A.S. Engines will use type "C" cylinder heads (straight CNC cut fins from Solid Bar)

The iconic Pratt & Whitney (P&W) Company's Radial Engine line is the choice of A.S. Engines for their new line of gasoline radial engines.
Francis Pratt and Amos Whitney found P&W in 1860, to manufacture machine tools and gun making machinery for the Union Army during the American Civil War.

In 1925, Frederick B. Rentschler proposed to P&W the production of his new aircraft engine. This was the beginning of the P&W Aircraft Company, and the first engine was the Wasp, completed in December 1925. It was the beginning of a revolution in American aviation.

A.S. Engines is bringing exclusively to market the entire line of P&W radial 4-Stroke gasoline engines from 7 cylinders (single row) to 28 cylinders (4-rows) with engine displacements from 74 cc up to 950 cc.


Future developments of the Anzani 3 cylinder engine and Gnome rotary 9 cylinder engine are underway.

With accurate external scale features like the exact fin count, magnet, distributors, oil pump, ignition harness and parts CNC machined from Solid Bar for lightest possible weight, extra long durability and strength. Using materials like steel S4140, Titanium/Nickel/Chromium alloys, aluminum AL7075, Stainless Steel 0.5 mm wall tubing, tapered exhaust collector ring with smoke oil nipple, CDI electronic ignition among many other features. Unique 2 micro-bearings on EACH rocker arm same as on full scale engines.


All radial engines on are designed using the "one part fits all" design concept in each scale.