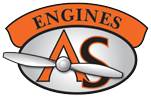 Single Piston Model RC Engines

4-Stroke Gasoline Model Engines

The best looking single piston model engine on the market. Designed for high compression to rival 2-Stroke gasoline engines.
EFI (Electronic Fuel Injection) system: "QuickFire EFI - Fuel, Fire & Fly." No more messing with pesky carburetors.
Very affordable prices.
Available soon.


Engine Models
AS-17

Model: AS-17
Cylinders: 1
Displacement: 17 cc (1.0 cu in)
Cooling: Air-cooled, 4-Stroke

Available: 2014


---

AS-25

Model: AS-25
Cylinders: 1
Displacement: 25 cc (1.5 cu in)
Cooling: Air-cooled, 4-Stroke

Available: 2014


---

AS-21

Model: AS-21
Cylinders: 1
Displacement: 21 cc (1.3 cu in)
Cooling: Air-cooled, 4-Stroke

Available: 2014

---